Image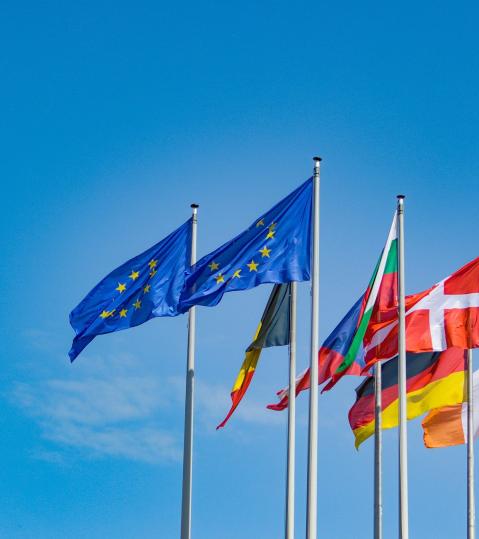 Official name of scheme
EU Emissions Trading System (EU ETS)
ETS Status
in force
Jurisdictions
Austria
Belgium
Bulgaria
Croatia
Cyprus
Czech Republic
Denmark
Estonia
Finland
France
Germany
Greece
Hungary
Iceland
Ireland
Italy
Latvia
Liechtenstein
Lithuania
Luxembourg
Malta
Netherlands
Norway
Poland
Portugal
Romania
Slovakia
Slovenia
Spain
Sweden
Start of operation (year)
2005
Allocation
Auctioning; Free Allocation (Benchmarking)
Offsets and credits
Offsets and international credits can no longer be used from phase 4 (2021-2030)
GHGs covered
CO2, N2O, PFCs
Average auction price (2021)
EUR 52.93 (USD 62.61)
Average secondary market price (2021)
EUR 54.76 (USD 64.77)
Total revenue since beginning
EUR 94 billion since 2013 (USD 118 billion)
Total revenue (2021)
EUR 31 billion (USD 37 billion)
General Information
The European Union Emissions Trading System (EU ETS) is a cornerstone instrument of the EU's policy framework to combat climate change and reduce GHG emissions at least cost. The system covered ~36% of the total emissions of the European Economic Area (EEA) in 2020-21, encompassing activities from the power sector, manufacturing industry, and aviation (including flights from the EEA to the United Kingdom).
Introduced in 2005 and now in its fourth trading phase, the EU ETS is the oldest system in force. Since 2005, stationary installations have cut emissions by around 43%. 
Since its launch, the EU ETS has gone through several reforms. The latest revision of the system's framework was completed in 2018 and took effect in January 2021, for phase 4. The European Commission proposed further reforms to the ETS in 2021 to deliver on the "European Green Deal".
The EU ETS and the Swiss ETS are linked as of 2020. Any policy updates in either jurisdiction will have to be considered accordingly under the linking arrangement.
2021 marked the first year of the fourth trading phase of the EU ETS. Triggered by a persisting surplus of allowances, the Market Stability Reserve (MSR) reduced auction volumes for 2021 by nearly 40%. In March, the Commission published updated benchmark values for free allocation to industrial installations during 2021-2025, based on data submitted by Member States. It also adopted the cross-sectoral correction factor to be applied to free allocation until 2025.
The "European Climate Law" entered into force in July 2021, setting new binding EU-wide climate targets for 2030 (55% cut in GHG emissions compared to 1990 levels) and 2050 (net zero emissions), and initiating a process to develop a 2040 target. The European Commission put forward a policy reform package to deliver on the "European Green Deal" and align decarbonization efforts with the updated 2030 climate target. The package places the EU ETS at the heart of the EU's decarbonization agenda with major changes that include:
an increased linear reduction factor from 2.2% to 4.2%, and a one-off reduction to the cap to be applied retroactively when the legislative process for the revision is concluded;

the inclusion of the maritime sector into the market's scope from 2023, and a separate fuel ETS for buildings and road transport;

the introduction of uniform product benchmarks to support breakthrough technologies, more stringent benchmark values and a provision that would render free allocation conditional on low-carbon investment by the receiving entity;

the gradual phase-out of free allocation to aviation sector;

the introduction of a carbon border adjustment mechanism (CBAM) that prices imported goods based on their embedded emissions from 2026;

updated parameters of the MSR including a new buffer threshold and an extension of the current intake rate of 24% beyond 2023; and

new regulations around revenue use to address distributional effects and spur innovation, including the creation of the Social Climate Fund.
The updates, split into several legislative proposals, follow an extensive process that included multiple consultation rounds. The Council and the European Parliament need to agree on their final form before they can take effect.
Emissions & Targets
BY 2030: At least 55% below 1990 GHG levels
BY 2050: Climate neutrality
EUR 24.76 (USD 28.28) (average 2020 secondary market spot price from EEX exchange; updated prices available here)
Size & Phases
PHASE ONE: 3 years (2005-2007)
PHASE TWO: 5 years (2008-2012)
PHASE THREE: 8 years (2013-2020)
PHASE FOUR: 10 years (2021-2030)
PHASE ONE (2005-2008) and PHASE TWO (2009-2012): The cap was established bottom-up, based on the aggregation of the national allocation plans of each Member State. Phase 1 started with a cap of 2,096 MtCO2e in 2005; Phase 2 started with a cap of 2,049 MtCO2e in 2009.
PHASE THREE (2013-2020): A single EU-wide cap for stationary sources: 2,084 MtCO2e in 2013, which was annually reduced by a linear reduction factor of 1.74% (of 2008-2012 baseline emissions). This translated into a year-on-year reduction by ~38.3 million allowances and resulted in a cap of 1,816 MtCO2e in 2020.
PHASE FOUR (2021-2030):
Stationary installations: A single EU-wide cap of 1,572 MtCO2e in 2021. A linear cap reduction factor of 2.2% (of 2008-2012 baseline emissions) applies to both stationary sources and the aviation sector each year. This translates into a year-on-year reduction of the cap by 43 million allowances. The linear reduction factor does not have a sunset clause and the cap will continue to decline beyond 2030.
As of 2021, emissions from UK entities previously covered by the EU ETS are no longer considered in the cap. Pursuant to Article 9 and Annex 4 of the "Protocol on Ireland/Northern Ireland", the cap trajectory in phase 4 does account for emissions from electricity generators in Northern Ireland.
The European Commission proposed to revise the cap trajectory downward to align the ETS with the more ambitious 2030 climate target. Under the proposal, emissions covered by the EU ETS would have to decrease by 61% (including maritime) by 2030 compared to 43% (excluding maritime) under current regulations.
Aviation sector: The cap for emissions of intra-EEA aviation was reduced from 38 million to 24.5 million in 2021 following Brexit. Emissions from outbound flights from the EEA to the UK remain covered by the EU ETS. The same holds for EEA flights to Switzerland.
As of 2021, the cap for aviation decreases each year by the linear reduction factor of 2.2%. The cap was initially set at 210 MtCO2e/year in 2012, to reflect the inclusion of all flights from, to, and within the EEA in the EU ETS. However, following the "stop the clock" temporary suspension until the end of 2016, the number of aviation allowances put into circulation in 2013-2016 was reduced to 38 million allowances annually and set considerably below verified intra-EEA aviation emissions.
In 2017, the intra-EEA scope for aviation was prolonged until 2023 pending developments of the Carbon Offsetting and Reduction Scheme for International Aviation (CORSIA). In 2021, the European Commission proposed legislation to implement CORSIA for extra-EEA flights.
PHASE ONE (2005-2007): Power stations and other combustion installations with >20 MW thermal rated input (except hazardous or municipal waste installations), industry (various thresholds) including oil refineries, coke ovens, and iron and steel plants, as well as production of cement, glass, lime, bricks, ceramics, pulp, paper, and cardboard.

PHASE TWO (2008-2012): Aviation was introduced in 2012 (>10,000 tCO2/year for commercial aviation; >1,000 tCO2/year for non-commercial aviation since 2013) (see 'Aviation' section). Several countries included NOx emissions from the production of nitric acid. The EU ETS also expanded to include Iceland, Liechtenstein, and Norway.

PHASE THREE (2013-2020): Carbon capture and storage installations, production of petrochemicals, ammonia, nonferrous and ferrous metals, gypsum, aluminum, as well as nitric, adipic, and glyoxylic acid (various thresholds) were included.
PHASE FOUR (2021-2030): An expansion of the system's scope with intra-EEA emissions from the maritime sector from 2023 onward is under discussion (see 'Year in Review' section).
Aviation: Emissions from international aviation were included in the EU ETS in 2012. In November 2012, the EU temporarily suspended enforcement of the EU ETS requirements for flights operating from or to non-EEA countries ("stop the clock") while continuing to apply the legislation to flights within and between countries in the EEA. Exemptions for operators with low emissions have also been introduced.
The EU ETS will maintain the intra-EEA scope (plus departing flights from EEA airports to Switzerland and the UK) for aviation emissions.  In parallel, CORSIA will apply to extra-EEA flights by the end of November 2022 at the latest.*
*Under CORSIA, flight operators are required to offset the share of emissions above their 2019 emission levels from 2021 onwards.
9,628 stationary installations
349 aircraft operators
Allowance Allocation & Revenue
PHASE ONE (2005-2007):
Allocation established through the Member State national allocation plans. Allocation through grandparenting. Some Member States used auctioning and some used benchmark-based allocation.
PHASE TWO (2008-2012):
Similar to Phase 1, with ~90% of allowances allocated for free. Some benchmark-based free allocation and auctioning in eight Member States (Germany, United Kingdom, The Netherlands, Austria, Ireland, Hungary, Czech Republic, and Lithuania), amounting to ~3% of the total allowance allocation.
PHASE THREE (2013-2020):
57% of allowances were auctioned; the remainder was allocated for free based on benchmarks.
88% of allowances were distributed to Member States based on verified 2005 or average 2005-2007 emissions; 10% were allocated to lower-income EU Member States under the solidarity provision; and the remaining 2% were distributed among Member States that had reduced their emissions by at least 20% compared to the applicable base year under the Kyoto Protocol.
Power Sector: 100% auctioning with an optional derogation for lower-income Member States to grant free allocation to energy installations to support sectoral modernization and diversification. At the end of phase 3, eligible Member States could decide to continue using the derogation in phase 4 (2021-2030), monetize allowances left over from the derogation or transfer these allowances to the Modernisation Fund. 
Industry: Free allocation based on product benchmarks. Benchmarks were calculated using 2007-2008 activity levels and were set at the average of the 10% most efficient installations in the (sub-)sector.
Sectors deemed at risk of carbon leakage received free allocation at 100% of the relevant benchmark. Sub-sectors deemed not at risk of carbon leakage had free allocation reduced gradually from 80% of the respective benchmark in 2013 to 30% by 2020.
As the demand for free allowances exceeded supply, the free allocation volume of each installation was subject to a uniform cross-sectoral correction factor — which was revised in 2017.
Carbon leakage risk was assessed against the following criteria of emissions intensity and trade exposure:
direct and indirect cost increase >30%; or

non-EU trade intensity >30%; or

direct and indirect cost increase >5% and trade intensity >10%.
Cost intensity was determined by the formula:
[Carbon price × (direct emissions × auctioning factor + electricity consumption × electricity emission factor)]/ gross value added
Trade intensity was determined by the formula:
(imports + exports)/(imports + production)
Aviation: 15% of allowances were auctioned and 82% were allocated to aircraft operators for free. The remaining 3% constituted a special reserve for new entrants and fast-growing airlines. Due to the temporary derogation that applied to extra-EEA flights, allocation to aviation was adjusted to reflect the intra-EEA scope of the EU ETS.
New Entrants' Reserve (NER): 5% of the total allowances for phase 3 were set aside to assist new installations coming into the EU ETS or to cover installations whose capacity significantly increased since their free allocation had been determined. 300 million allowances from the reserve were allocated to the NER300*, a large-scale funding program for innovative low-carbon energy demonstration projects.
Initially, the NER held 480.2 million allowances;  as of June 2021, a total of 178.3 million had been used by 1,392 installations during throughout phase 3. Of the remaining 301.9 million allowances, 200 million were placed in the reserve for phase 4 while the rest were transferred to the MSR.
PHASE FOUR (2021-2030):
Power Sector: 100% auctioning with an optional derogation for lower-income Member States to grant free allocation to energy installations to support sectoral modernization and diversification. Three out of ten eligible Member States decided to continue using the derogation in phase 4. Other eligible Member States chose to either monetize allowances left over from the derogation from phase 3 or transfer them to their respective shares of the Modernization Fund.
Industry: Benchmark values are updated twice in phase 4 to reflect technological progress in different sectors. The first set of benchmark values applies to the period 2021-2025; the second set will cover 2026-2030.
Member States submitted lists of incumbent installations and updated emissions data in September 2019 and are required to do so again in September 2024. The European Commission calculates the updated benchmarks for phase 4 based on this data. The first updated set of benchmarks was published in June 2021.
Benchmarks are determined by the average emissions intensity of the 10% most efficient installations within a (sub-)sector, based on 2016-2017 activity data. The values are adjusted for technological progress on a yearly basis. An annual reduction rate (0.2% to 1.6%) is determined for each. For the steel sector, which faces high abatement costs and leakage risks, the lower end of 0.2% annual benchmark reduction applies.
Free allocation may be updated annually to reflect sustained changes in production (if the change is more than 15% compared to the initial level, based on a two-year rolling average).
The European Commission proposed further revisions to benchmarks in July 2021 in view of the updated climate target for 2030.
Carbon leakage rules: The third carbon leakage list adopted in February 2019 applies for the period 2021-2030. The list includes a reduced number of sectors classified at risk of carbon leakage. Free allocation for other sectors will be discontinued by 2030 (except for district heating).
As an additional safeguard, the phase 4 cap includes a buffer of more than 450 million allowances, initially earmarked for auctioning, which can be made available for free allocation if the initial free allocation volume is fully absorbed (thereby avoiding the need to apply the cross-sector correction factor).
Carbon leakage is assessed against a composite indicator of trade intensity and emissions intensity, according to the following criteria:
Trade Intensity x Emissions Intensity > 0.2
Trade intensity x Emissions Intensity > 0.15 but < 0.2; qualitative assessment will follow based on abatement potential, market characteristics, and profit margins.
Emissions intensity is determined by:
[direct emissions + (electricity consumption x electricity emission factor)]/ gross value added
Trade exposure is determined by:
(imports + exports)/(imports + production)
In 2021, the European Commission determined the uniform cross-sectoral correction factor for the adjustment of free allocation for the period of 2021-2025. The value of the cross-sectoral correction factor to apply annually between 2021 and 2025 is 1.
Aviation: Same breakdown as in phase 3 (see above). As part of the review of the EU ETS for aviation proposed in 2021, the European Commission proposed to increase gradually the share of allowances distributed via auctions.
Auctioning: 57% of allowances are auctioned. Out of these, 90% are distributed to Member States based on their share of verified emissions, with 10% distributed among the lower-income Member States under the solidarity provision. Auctions are cancelled if the highest bid is significantly below the prevailing secondary market price, to avoid market distortion. If an auction is cancelled, its volume is distributed over the subsequent four auctions scheduled at the same trading platform.
NER: The NER has been supplied with 200 million residual allowances from the phase 3 reserve.
*The NER300 is an EU low-carbon technology funding program of approximately EUR 2 billion (USD 2.37 billion) monetized through the sale of 300 million allowances. It awarded funding to proposed projects in 2012 and 2014, the latest of which entered into operation in June 2021.
EUR 94 billion* (USD 118 billion) since 2013
EUR 31 billion (USD 37 billion) in 2021
*Includes revenue from Iceland, Liechtenstein and Norway, and the United Kingdom.
In the EU ETS, revenues from the auctioning of allowances accrue to Member States' national budgets. At least 50% of revenues should be used for climate- and energy-related purposes. In a recent review of the EU ETS, the European Commission proposed to increase this threshold to 100%.
Member States report to the Commission on how they spent the auction proceeds. On average, Member States spent ~72% of their revenues in 2020 on domestic and international climate-related purposes, compared to ~75% throughout phase 3.
PHASE FOUR (2021-2030): Two new investment funds were established for phase 4 to support industrial innovation and the transition to low-carbon energy systems in lower-income Member States. In a recent review of the EU ETS, the Commission proposed to increase the resources to be allocated these funds.
Innovation Fund: Supports innovative and breakthrough technologies in industry such as low-carbon hydrogen, as well as CC(U)S and best available technologies in renewable energy. The fund is monetized through the sale of at least 450 million allowances and the remaining budget from the NER300. It currently has a funding capacity of EUR 1.5 billion (USD 1.8 billion).
Two calls for projects (large- and small-scale) were completed by 2021, with EUR 1.1 billion (USD 1.3 billion) in support awarded to 37 investment projects in clean technologies across the industry, power and heat sectors. 25 additional proposals were selected for project development assistance. Several new calls for projects have been launched since the completion of the first round in 2021.
Modernisation Fund: Supports investments in ten lower-income Member States aimed at modernizing energy systems, improving energy efficiency, and supporting a socially just transition to a low-carbon economy (e.g., upskilling/reskilling of affected workers). The Modernisation Fund is capitalized with the auction revenues of 2% of the total allowances for phase 4.
Flexibility & Linking
Unlimited banking has been allowed since 2008.
Borrowing is not allowed. However, implicit borrowing within trading periods is allowed, i.e., the use of allowances allocated in the current year for compliance in the previous year.
PHASE ONE (2005-2007): Unlimited use of Clean Development Mechanism (CDM) credits and Joint Implementation (JI) credits was provided for in the ETS Directive. In practice, no credits were used in Phase 1.
PHASE TWO (2008-2012):
Qualitative Limits: Most categories of CDM/JI credits were allowed, except for LULUCF and nuclear power. Strict requirements for large hydro projects exceeding 20 MW.
Quantitative Limits: In Phase 2, operators were allowed to use JI and CDM credits up to a certain percentage limit determined in the respective country's National Allocation Plans. Unused entitlements were transferred to Phase 3 (2013-2020).
PHASE THREE (2013-2020):
Qualitative Limits: Newly generated (post-2012) international credits had to originate from projects in least developed countries. Credits from CDM and JI projects from other countries were eligible only if registered and implemented before the end of 2012. Projects from industrial gas credits (projects involving the destruction of HFC-23 and N2O) were excluded regardless of the host country. Credits issued for emission reductions that occurred in the first commitment period of the Kyoto Protocol were no longer accepted after March 2015.
Quantitative Limits: The total use of credits for Phase 2 and Phase 3 was capped at 50% of the overall reduction under the EU ETS in that period (~1.6 Gt CO2e).
PHASE FOUR (2021-2030): The use of offsets is not allowed.
Following final regulatory changes in the design of the Swiss ETS, a link between the Swiss ETS and the EU ETS took effect in January 2020. The link allows covered entities in both systems to use allowances from either for compliance. Entities can transfer allowances between the ETS registries on pre-announced dates. This system is set to be replaced with an electronic link that would facilitate transfers of allowances between both registries on a continuous basis.
The link caps a ten-year process of formal negotiations. These began in December 2010, culminating in the conclusion of a linking agreement in late 2017.* Both sides announced in mid-December 2019 that the link would become operational in January 2020.

*Agreement between the European Union and the Swiss Confederation on the linking of their GHG emissions trading systems, OJ L 322, 12 December 2017, p. 3.
Compliance
One calendar year: operators must submit an emissions report by the end of March for the preceding calendar year.
REPORTING FREQUENCY: Annual self-reporting based on harmonized electronic templates prepared by the European Commission.
VERIFICATION: Verification by independent accredited verifiers is required before the end of March of the following year. Once verified, operators must surrender the equivalent number of allowances by the end of April.
MRV FRAMEWORK: Since phase 3, the MRV framework for the EU ETS has been further harmonized. Specific regulations apply for emissions monitoring and reporting, as well as for verification and accreditation of verifiers. A monitoring plan is required for every installation and aircraft operator (approved by a competent authority). MRV procedures were updated in 2020.
Regulated entities must pay an excess emissions penalty of EUR 100 (USD 118.27) for each tonne of CO2 emitted for which no allowance has been surrendered, in addition to buying and surrendering the equivalent number of allowances. The name of the non-compliant operator is also made public. Member States may enforce different penalties for other forms of non-compliance.
Market Regulation
MARKET PARTICIPATION: Compliance entities, non-compliance entities (investors; brokers; and other service providers)  
MARKET TYPES:
Primary: Uniform price auctions with single rounds and sealed bids, conducted daily by EEX. Germany has opted out of the common auctioning platform, instead running national auctions through the EEX. Poland has also opted out but continues to participate in the common auction platform at the EEX until further notice. 
Secondary: Spot, futures, options, and forward contracts (OTC) are traded on the secondary markets. Besides the EEX, futures are traded on ICE ENDEX and Nazdaq.
LEGAL STATUS OF ALLOWANCES: "Directive 2014/65/EU of the European Parliament and of the Council of 15 May 2014" classified EUAs as financial instruments.
BACKLOADING: As a short-term measure to address a growing surplus in the EU ETS, the auction of 900 million allowances from 2014-2016 was postponed to 2019-2020. The back-loaded allowances were placed in the MSR, which became operational in 2019.
MARKET STABILITY RESERVE: The MSR started operating in January 2019. Its purpose is to address any supply-demand imbalance of allowances prevailing in the EU carbon market, and to improve the resilience of the EU ETS to future shocks. The Commission proposed to update MSR thresholds and parameters in view of the overarching review of the EU ETS (see 'Year in review' section).
Current thresholds: The Commission publishes a communication on the total numbers of allowances in circulation (TNAC) in May each year.
When the TNAC is above 833 million, 24% (12% beyond 2023) of its volume is withdrawn from future auctions and placed into the reserve over a period of 12 months.

When the TNAC is less than 400 million allowances, 100 million allowances are taken from the reserve and injected into the market through auctions.
From 2023 onwards, the number of allowances held in the reserve will be limited to the auction volume of the previous year. Holdings above that amount will be canceled.
In 2019, a total of 397 million allowances were placed in the reserve. In 2020, the total number of allowances withdrawn amounted to more than 375 million, corresponding to a 35% reduction in auction volumes for that year. In 2021, auction volumes were reduced by nearly 40% corresponding to a volume of ~320 million allowances being placed into the reserve.
Swiss allowance supply is not considered in the TNAC, and Swiss auction quotas are not affected by the MSR.
CANCELLATIONS: As of phase 4, a Member State may also cancel allowances from their auction share in the event that they take additional policy measures that result in closure of electricity generation capacity. The quantity of allowances cancelled shall not exceed the average verified emissions of the installation from five years preceding the closure.
Other Information
The European Commission and the relevant authorities of all EU Member States as well as Iceland, Liechtenstein, and Norway, and Switzerland.
The European Commission publishes annual reports on the functioning of the European carbon market (most recent being the 2021 report).
The ETS Directive stipulates that the system be kept under review in light of the implementation of the Paris Agreement and the development of carbon markets in other major economies. Two major EU ETS reviews — before phase 3 and before phase 4 — have been conducted to date. In light of the more ambitious 2030 emissions reduction target, the European Commission has proposed a revision of the EU ETS. The legislative process for this review is ongoing.