OUT NOW – New ICAP Status Report 2023 presents the latest developments in emissions trading systems worldwide
Image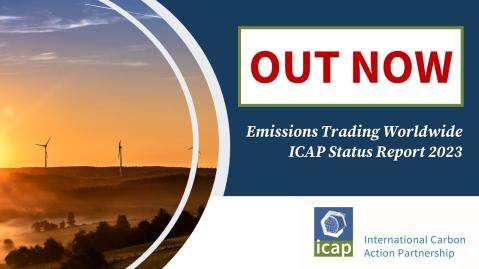 Paragraphs
Content
The ICAP Secretariat is pleased to announce the launch of "Emissions Trading Worldwide: ICAP Status Report 2023".  
The world's emissions trading systems (ETSs) were largely impervious to broader economic shocks in 2022, with allowance prices ending the year largely unchanged from the end of 2021. This came amid a global energy crisis, sparked by Russia's war in Ukraine, which saw energy prices skyrocket and added to broader inflationary pressures.
Instead of retreating from climate ambitions as economic pressures piled up, policymakers around the world doubled down on their commitments and accelerated plans to decarbonize, using their ETSs to help, finds the 10th edition of ICAP's Emissions Trading Status Report. Furthermore, ETSs are generating record level of revenues that can be used to both deliver further GHG reductions and to alleviate the burden on low-income communities and households, either directly via rebates or indirectly, such as funding energy efficiency improvements in state housing.
The report also highlights the growth of ETSs globally, with three new systems launched in 2022 and 20 more under development or consideration in Latin America and Asia. Additionally, 2022 saw the first concrete steps towards compliance emissions trading in Africa, demonstrating a growing commitment to combating climate change on a global scale.
The 2023 ICAP Status Report offers an in-depth analysis of the latest advancements in global emissions trading. It features contributions from policymakers and government advisors from the European Union, the United Kingdom, Québec, Chile and New Zealand, providing valuable insights and lessons learned from each system. Additionally, the report includes expert analyses from esteemed researchers, including Jos Delbeke from the European University Institute, and Ottmar Edenhofer and Michael Pahle from the Potsdam Institute for Climate Impact Research, who evaluate the impact of the energy crisis on carbon markets.
To view and download the full report please click here. Also available are standalone versions of the report's executive summary and infographics. Executive summaries in Spanish, French, and Chinese will be available soon.
 
Video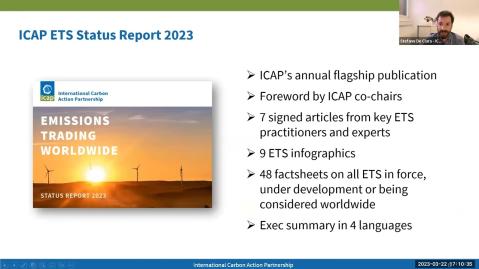 Video