OUT NOW: ICAP Report on ETS and Carbon Capture and Storage
Subline (optional)
ICAP publishes report on Emissions Trading and Carbon Capture and Storage
Image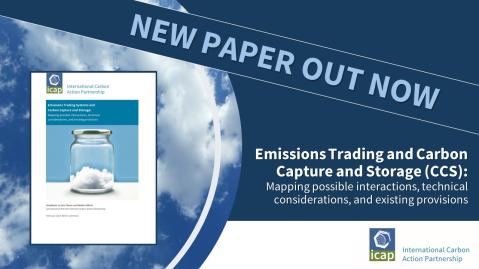 Paragraphs
Content
Carbon Capture and Storage (CCS) can be a key tool in the response to climate change. CCS applications can support decarbonization by helping to reduce emissions from emissions-intensive industries and through the retrofitting of existing infrastructure. Moreover, some CCS applications can reduce atmospheric concentrations of carbon dioxide and are an important component in compensating for residual emissions and achieving net zero by mid-century.
 Most jurisdictions with Emissions Trading Systems (ETSs) in force either already have policies on CCS or intend to make use of CCS applications. Moreover, there is an important overlap between the sectors covered by ETSs and those in which CCS shows the most promise. At the same time, there has been limited attention to the interactions between ETSs and CCS.
 ICAP has carried out work to better understand the interaction between ETSs and CCS. The work benefited from strong collaboration with ICAP Members and Observers jurisdictions (which include all jurisdictions with operating ETSs), as well as review comments from leading experts in the field.
 ICAP has now published the outcomes of this work in a new report: "Emissions Trading and Carbon Capture and Storage: Mapping possible interactions, technical considerations, and existing provisions". The report includes findings on topics such as how CCS is treated in different ETSs around the world; if and how ETSs could play a role in incentivizing the development and deployment of CCS applications; and the challenges and opportunities in developing the required regulation in this context.
Download the report for free here.
You can rewatch the launch webinar that was held on 23 February 2023 below.
ICAP: Launch Webinar Presentation Slides
France: Launch Webinar Presentation Slides
Québec: Launch Webinar Presentation Slides
Video