North Carolina legislature defeats hope of joining RGGI
Image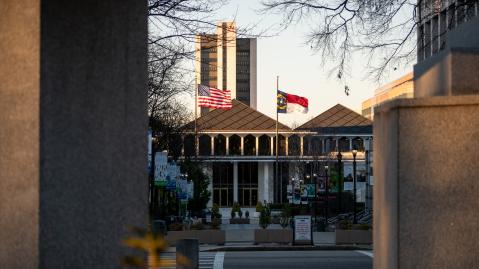 Paragraphs
Content
On 18 May 2023, the North Carolina Senate approved legislation that would prohibit the state from participating in the Regional Greenhouse Gas Initiative (RGGI). This development would put a halt to a process of more than two years, led by the North Carolina Department of Environmental Quality (DEQ), to develop an emissions trading system (ETS) and join the RGGI carbon market.
The quest for North Carolina to join RGGI began in January 2021, when two key environmental groups, Clean Air Carolina and the North Carolina Coastal Federation, banded together to petition the DEQ. The petition successfully sparked a legal response, and in mid-2021 North Carolina's Environmental Management Commission instructed the DEQ to begin the rulemaking process to establish an ETS that could enable the state to join RGGI.
The rulemaking process made steady progress throughout 2022. In July 2022, the DEQ provided details of the proposed regulation. While the draft regulation was largely in line with requirements to join RGGI, it also included some notable differences to the RGGI Model Rule, the regulatory template that forms the basis for each participating state's cap-and-trade program. The North Carolina regulation would have covered industrial units, regardless of grid connectivity, as well as emissions from biomass and biofuel. It would have adopted consignment auctions, would not have accepted offsets, and would have had a steeper annual decline in its CO2 budget to achieve the state's 70% emissions reduction target. The next step would have been the development of a Fiscal Note to analyze the economic impacts of the proposed regulation.
However, in March 2023, House Bill 259 (the 2023 Appropriation Act) was introduced to the House of Representatives of North Carolina's Republican-controlled General Assembly. HB259 contains a provision that prohibits the governor or any state agencies from requiring public utilities to participate in cap-and-trade programs. The provision would also prohibit the governor and the DEQ from entering into agreements with other states in any program requiring acquisition of CO2 allowances. This legislation has been initially approved by both the House and the Senate with majorities large enough to override any potential veto by the governor.
A committee composed of members from both chambers will now work to agree upon certain non-RGGI-related changes that were made to the legislative package before its final approval. It will then be sent to Democratic Governor Roy Cooper to be signed into law. Barring any further legislative action to mandate a cap-and-trade program in the state, it is unlikely that North Carolina will be able to join RGGI through the DEQ-led process.