New ICAP Status Report 2023 on Emissions Trading Worldwide – launching March 22 and 23
Teaser + metatags
ICAP held two public seminars to launch the new Status Report 2023 on Emissions Trading Worldwide, published on 22 March 2023.
Paragraphs
Image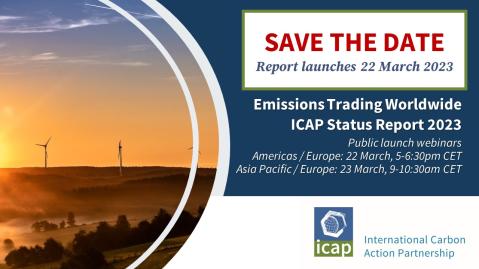 Content
2022 has been a crucial year for emissions trading systems (ETS) around the world, as countries took steps to meet their net-zero commitments while grappling with the first truly global energy crisis. These challenges have not slowed down the momentum for ETS implementation. As of 2023, 28 ETSs are in force worldwide – 3 more than last year – with 20 more systems under development or consideration. Domestic carbon markets cover about 17% of global emissions and have generated more than USD 63 billion in auction revenues in one year. 
These are some key figures drawn from our new ICAP Status Report 2023 on Emissions Trading Worldwide, to be published on March 22.
The annual ICAP Status Report is a cornerstone publication for the carbon market community. The 2023 edition once again provides a comprehensive snapshot of the latest ETS developments from around the world from systems that are in operation, scheduled, or under consideration. The Status Report features up-to-date factsheets alongside infographics that visualize the characteristics of the different systems. In-depth articles from policymakers and carbon market experts also provide insights into the latest ETS trends across the globe.
To accompany the release of the Status Report, ICAP will be hosting two public webinars timed to accommodate the global reach of the ETS community. Representatives of ETS jurisdictions will share the latest developments and future prospects from their systems, and the ICAP Secretariat will offer a closer look at the key messages of the 2023 Status Report.
The dates, times, and regional focuses of the two webinars are below. Use the links to register. 
We look forward to seeing you there.
Content
The Americas and Europe – 22 March 2023, 5pm-6.30pm Central European Time
Panelists will include:
European Union

(European Commission)

Mette Quinn,

Head of Unit, Carbon Markets and Clean Mobility

United Kingdom

(

Department for Energy Security and Net Zero

)

Joe Glynn, Head of International Engagement, Department for Energy Security and Net Zero

Washington

(State Department of Ecology)

Luke Martland, Climate Commitment Act Implementation Manager, Air Quality Program

Mexico

(SEMARNAT)

Diana Guzmann (tbc), Director for Climate Change Mitigation Policy

California

(California Air Resources Board)

Mark Sippola, Chief of Climate Change Program Evaluation Branch – Climate Change and Research
Video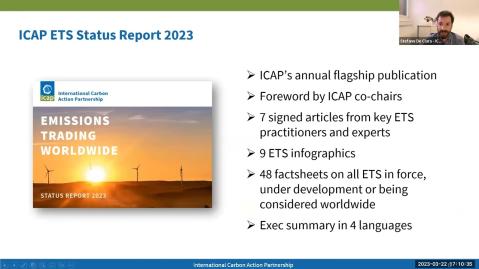 Content
Asia Pacific and Europe – 23 March 2023, 9am-10.30am Central European Time
Panelists will include:
European Union

(European Commission)

Julia Ziemann

, Policy Officer, International Carbon Markets

China

(SinoCarbon Innovation & Investment)

Qian Guoqiang, Deputy General Manager

Indonesia

(Ministry of Energy and Mineral Resources)

Bayu Nugroho, Deputy Director Electricity Engineering and Environment

New Zealand

(Ministry for the Environment)

Ted Jamieson,

Climate Change Directorate

International Energy Agency

Ermi Miao, Energy and Environment Analyst
Video