Challenges and Opportunities for Carbon Pricing in Africa: Transitioning from Crediting to Compliance Markets
Image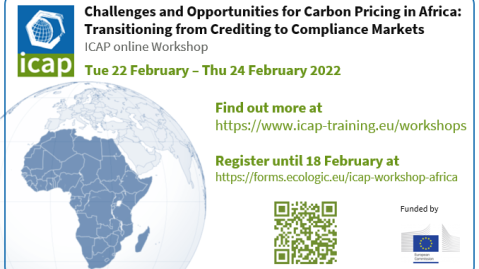 Body (only for migrated news)
Register for the ICAP workshop: "Challenges and Opportunities for Carbon Pricing in Africa"
From 22 to 24 February, the International Carbon Action Partnership (ICAP) will convene the first ICAP workshop specifically focused on the state of play and prospects for carbon markets and carbon pricing in African countries. Participation in the workshop is open to anyone with an interest in, or professional link to, climate policy and carbon market development in African countries. The workshop is aimed at policymakers, carbon market professionals and other stakeholders.
Please register for the workshop at https://forms.ecologic.eu/icap-workshop-africa. Registrations close on 18 February 2022, or when the available spaces are exhausted.
The ICAP workshop will be centred around the feasibility and adequacy of a roadmap towards the development of emissions trading systems (ETS) in Africa, in particular exploring it from three different angles: State of Play and Challenges, Building a Market and Moving forward.
Further details can be found in the following link: https://icap-training.eu/workshops/challenges-and-opportunities-carbon-pricing-africa-transitioning-crediting-compliance.